W6SF JULY MEETING
THURSDAY, JULY 14TH
BEAR CREEK COMMUNITY CHURCH
QST QST QST ALL Members and Guests are invited to attend the July 2016 meeting on Thursday, July 14th, 2016. The meeting will be held at the Bear Creek Community Church, 11171 N Lower Sacramento Rd - just North of 8 Mile Rd - in Stockton .
Program to be announced
Members needing transportation assistance to or from the meeting should contact Paul N6KZW or John NZ6Q or a club officer. We will arrange assistance for you.
WEED WHACKING DAY
SATURDAY, JUNE 11TH 9:00 AM
Early Saturday morning, June 11 several club members journeyed to Fiddletown and the W6SF 147.165MHz repeater site to take on the every growing weeds. As in the past, 2 to 3 hours of hard work was followed by a barbecue lunch of burgers, hot dogs, salad and dessert.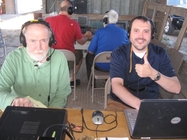 The Stockton-Delta ARC 2016 Field Day was a great success. Field Day is the annual event allowing clubs like ours to practice set-up, operation and take down in an all-portable operation on HF for the weekend.
We set-up at the club site hosted by Charlie WB6NVB on Saturday morning to begin operation at 11AM. Operation continued well into Saturday night and resumed Sunday morning early. Members came and went throughout the day with several new operators getting on the air on HF for the first time.
I think the story is best told in some of the great pictures taken by Dave N6LHL and Tammie KM6CBK – thanks to both for the great pictures you sent. Enjoy!
Check out the video of John NZ6Q and 7-year old Sydney at the Rosie the Riveter Memorial in Richmond, CA....
CLICK HERE
CLUB REPEATERS

Located in the Sierra Nevada Mountains at 2500 feet, the club repeaters cover the Southern Sacramento and Northern San Joaquin Valleys. The call-sign is W6SF and can be heard on 147.165 MHz and on 442.250 MHz with a PL of 107.2 Hz. Club simplex frequency is 147.51 MHz.
SDARC also has a UHF repeater, operating independently, on 444.575+ PL 107.2. This is a local low level Stockton repeater with the call W6SF. As the project progresses, three receiver/voters will be installed via T1 phone lines and the addition of IRLP linking to other repeaters.
Plans are underway to install several voting receivers, strategically located on the 444.575 repeater (W6SF) in Stockton. The addition of these receivers will sharply increase receive capability throughout Stockton and Lodi with the use of a hand held radio. Check the repeater occasionally for the upgrade.
W6SF CLUB INFORMATION

MEETINGS: Regular meetings are held on the second Thursday of each month at 1930 hours, located at the Bear Creek Community Church, 11171 Lower Sacramento Road. Members, guests and people having an interest in amateur radio are invited to attend.

WEEKLY NET: The weekly net is held each Monday at 2000 hours on the above named repeaters. Members and visitors are invited to check in. There is also an unofficial get-together on Thursday evenings (Except meeting nights) at 1930 hours on 28.457 MHz. Amateurs with the proper license are encouraged to participate.